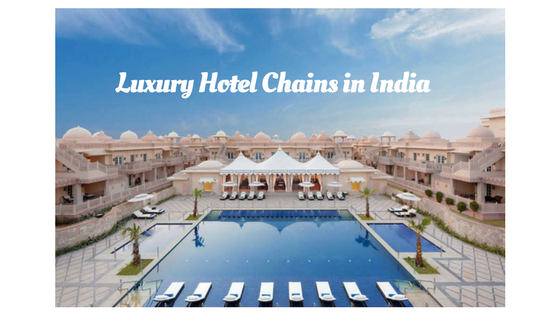 There's something in India for everyone. India can be a humble abode to someone who's on a budget-friendly trip, as also a luxurious haven to those wanting to splurge. No matter where you go, you'll be welcomed warmly; after all India is the pioneer of "Atithi Devo Bhava". For those of you who've saved enough to spend a luxurious vacation anywhere across India, here's a list of the hotel chains that have been loved and revered by everyone across the country for the unparalleled services offered by them. While you're willing to spend to your heart's content on your comfort, you'll save a huge deal by buying cheap domestic flight tickets with Jetstay.com. Gear yourself up for a luxurious stay in one of these:
1. Ambassador Hotels
Ambassador hotel chain was established in 1939 and is located across 3 locations, namely Mumbai, Aurangabad and Chennai. The one at Mumbai, located in the plush area of Churchgate, with Marine Drive in its vicinity is the very first revolving restaurant and gives a 360 degree view of the city. The one in Aurangabad is the largest and the best five-star hotel there is in the city and is pretty close to the airport. The one located in Chennai is a magnificent one too and has the perfect ambience for a family stay as well as for a romantic getaway for couples. The restaurants in Ambassador serve delicious cuisine, both local and international and can add a lot of flavor to your vacation. It would be great to have Ambassadors in several other locations across the country.
2. Clarks Hotel
Clarks came into inception in 2005 and has been established in 5 cities namely Varanasi (Clarks Varanasi), Agra (Clarks Shiraz), Jaipur (Clarks Amer), Lucknow (Clarks Avadh) and Khajuraho (Clarks Khajuraho). The Clarks group of hotels believes in hospitality with affordability for travelers. The 5-star chain of hotels offers best of services at affordable rates which makes traveling across cities within India a less expensive affair. To have world-class services being offered at rates as cheap as are offered at Clarks is a great deal for anyone who wants to spend a luxurious vacation.
3. Holiday Inn Hotels
Holiday Inn Group of Hotels is a subsidiary of the InterContinental Hotels Group, which is of British origin, founded by Mr.Kemmons Wilson, an American resident. He came up with the idea of having his own chain of hotels after having suffered poor hospitality when on a tour to Washington. Holiday Inn has hotels across more than 100 countries, India being one of them. Within India, Holiday Inn hotels can be found in the cities of Amritsar, Jaipur, Kochi, Manali, Mumbai, Delhi, Pune and Goa. If you're traveling in one of these cities, you should definitely give Holiday Inn a try for their incredible services and warm welcome. There's obviously no doubt about the credibility of the brand given it is a global entity now.
4. Le Meridien Hotels
"Le Meridien", as one may guess is a European group of hotels that was established in the year 1972 in Paris. The chain of hotels was an initiative taken by Air France in order to provide hospitality services and thereby promote traveling extensively. Le Meridien has 100 hotels across 35 countries spread across the continents of Europe, Asia, Africa and America. There are 16 hotels in India that are across several regions in the country. Le Meridien Group of Hotels got acquired by Starwood Capital Group in 2005. The creative and cultural touch given to each hotel of the chain makes Le Meridien stand out against the other luxury hotels.
5. Oberoi/Trident Hotels
The "Oberoi Group of Hotels" is an Indian hotel chain that was established in the year 1934 by Rai Bahadur Mohan Singh Oberoi. He created a legacy despite having humble beginnings and being a clerk at Cecil Hotel which is owned by his son presently. There are 31 hotels across 6 countries run by the luxury hotels group of Oberoi, under the five-star "Trident" brand and their services have been exemplary ever since. Oberoi Group of Hotels is synonymous with luxury, beauty and commendable services rendered by the staff. They also have Nile cruisers and Motor-Vessel in the backwaters of Kerala. The Oberoi Hotel in Mumbai suffered the terror attack that occurred on 26th November 2008, but stands tall and prettier today. It's a definite recommendation for anyone who wishes to experience luxury and service at their best.
6. Taj Group of Hotels
The "Taj Group of Hotels" by Tata Group represents us globally and proudly with over 100 hotels across 62 locations. Despite being luxurious, upscale and modernized, Taj hotels have a traditional and cultural essence to them. The "Taj" hotels are also identified under the brands "Vivanta Hotels and Resorts" and "Gateway Hotels and Resorts", each of them having a peculiarity in taste and feel, yet uniformity in hospitality and services. The architecture of these hotels represents the grandeur and heritage of India and is a marvel to the onlookers. If you only want to spend once on a luxurious accommodation, you can't give Taj a miss!
Must Read: India's Top 10 Luxurious and Expensive Hotels