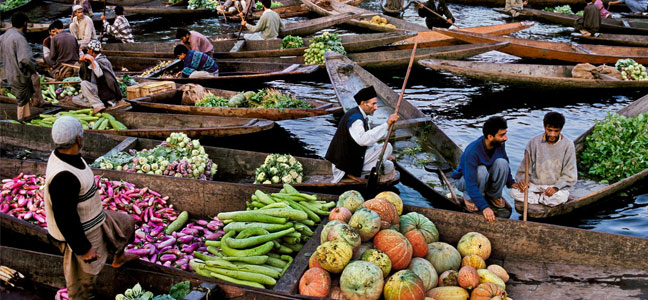 A paradise in earth with beautiful snow caped mountains, sparkling lakes, colourful tulips across rolling green valleys. It's a state in northern India, mostly located in Himalayan Mountains. Kashmir is not only rich in its scenic beauty but also the handicraft, shawls, blankets and spices are very famous and an integral part of Kashmir tourism.
Pashmina Shawls and Blankets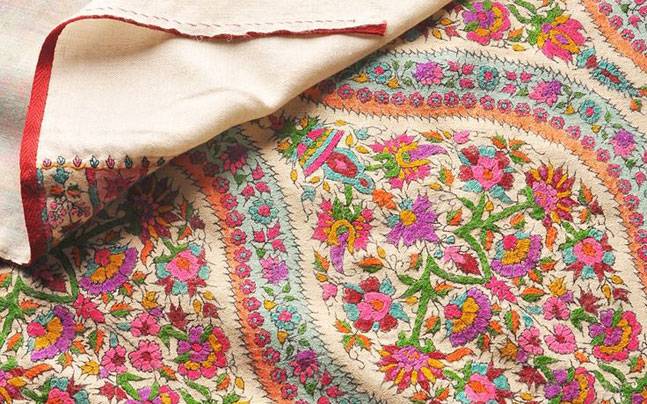 If you are looking for a pure Pashmina Shawls, stoles or blankets and you get a chance to visit Kashmir, nothing can be better than that. These shawls and blankets are available everywhere now, but the quality, design, purity and variety you will get in Kashmir is matchless. Pashmina is basically a fine type of cashmere wool which comes from different breeds of the Cashmere goat. Pashmina was a mark of royalty for centuries, a short of status symbol. The high price of an actual pashmina shawl is because of the amount of skilled craftsmanship that goes into making every shawl and scarcity of the pashmina wool – the wool used in a Kashmiri pashmina shawl is often obtained from the Changthangi breed of goat and this breed constitutes less than 0.1% of global cashmere production.
The purely made of Pasmina wool or sheep wool are famous for their soft colours and fine texture. An integral part of every traveller's shopping list. So, if you are in Kashmir don't even think of leaving, without buying lovely pashmina shawls, stoles, sweaters, and jackets. The travellers not only buy these stuffs for themselves but also to gift their friends and family because they are world famous for their softness and finest quality. They are very light waited and in contrast to that they are very warm too.
Kashmiri hand-woven carpet or a Namda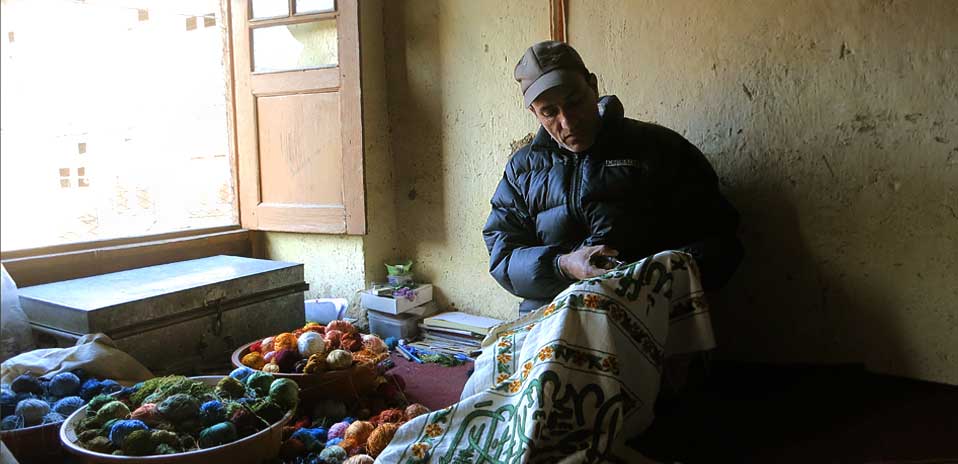 The origin of hand knotted carpets dates back to 15th century after which it gradually attained high degree of perfection and they are not only famous in India but around the globe. It is famous because it is handmade and knotted, not tufted. You will find the variety of handmade carpets along with the amazing quality and designs, above all you don't need to convince anyone about the speciality and uniqueness of these carpets. The weaving pattern, design, complex work and colour combinations are highly cherished by everyone and made this shopping item of Srinagar, globally famous.
Related Article: Srinagar – The City of Splendid Houseboats
Also, these carpets are available in various ranges starting from the simple to most intricate designed. It's a lifetime of investment, as it is little bit high priced because it takes lot of time, effort and cost in making of these carpets. Starting from Rs.500 it varies till Rs 100,000 depending upon the quality and work, they are available in wool as well as silk as per you pocket you can select the best one. It will tempt you and definitely you will not forget to buy Kashmiri hand-woven carpet or a Namda on your trip to Kashmir.
Carved Utensils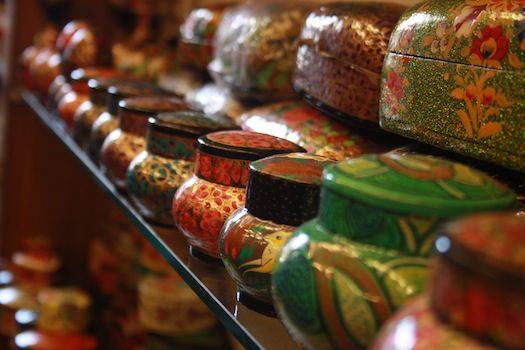 Carved utensils are other popular item that tourists love to buy in Kashmir. It includes the copper utensils and copper decorative items. Antiques like trays, bowls, jugs, serving spoons and specially samovars which is a heated metal container traditionally used to heat and boil water.
Copper utensils were basically part of Kashmir's rich culture for a long time, earlier they were used in daily life but later they were replaced by cheaper ceramic cookware's which lead to the drastic drop in the sale of copper utensils. Now they are not used in daily routine, but the carved copper utensils of Kashmir are till world famous for its intricate and antique designs. They are still in demand and loved as a decorative piece, which can't be replace by any other material.
Walnut wood products & Kashmir Willow Bats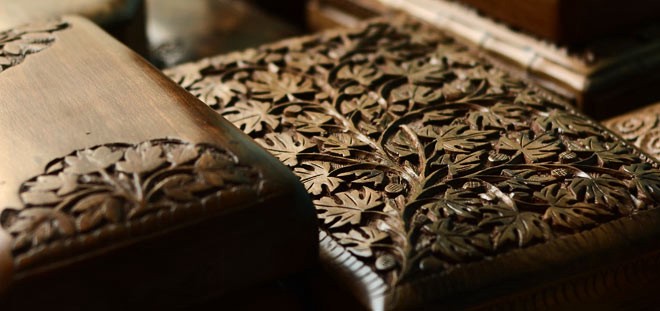 Kashmir is now one of the few places in world, where walnut is still available at an altitude of 5500-7500 ft. The wood is hard and durable, and the product made from these woods are perfectly carved. Kashmiri talented craftsmen love to carve these woods and give them the different shape and designs. Another famous item among travellers in the range of home décor, the "Walnut wood products". You will find variety of wooden boxes, beautiful tables, lovely jewellery boxes and attractive fruit baskets which is carved to perfection and easily available from local markets.
If you are a cricket fan and love playing cricket than you will be extremely happy to find the famous Kashmir willow bat that too in a very reasonable price.
Spices, Fruits (such as Apple, pears, plum, cherry) and variety of dry fruits


Kashmir is famous for its spices and dry fruits too. Blessed with the nature it is habitant to many exotic spices and dry fruits. Almost all the markets of Kashmir and Srinagar are dotted with shops selling different varieties of these common exotic spices and dry fruits. The aroma of these spices will drag you towards the shop and will leave you mesmerised. You will be hypnotised with this aroma so much that you will definitely buy these spices. Starting from Kashmir red chilli to the famous saffron, brown cardamom everything is authentic and pure. Also, you will find a good range of dry fruits in reasonable price and good quality.
If you lend up in apple's season, you will be amazed to see the quality of apples, as Kashmir is home to temperature fruits and apple is one of the most famous out of them. Apple grows in high temperature, in India it is available in Himalayan range especially in Kashmir. It is supposed to have 113 verities of Apple, 62 of pears, 32 of plum and 14 of cherry.
Kashmir is blessed with the nature's beauty and their peoples are blessed with the magic in their hands. That's why their handmade carpets, ornaments, shawls and carved utensils are world famous and an integral part of Kashmir tourism.