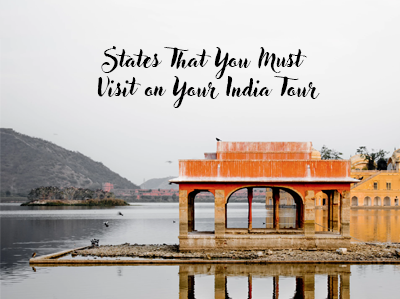 5 States That You Must Visit on Your India Tour
India is home to a variants of landscapes, culture, cuisine, and people. The diversity of this country can be experienced as you travel through the states and is overwhelming. The same richness and variation makes people ponder about which places to visit during their India tours. There are places that speak of the country's glorious history and cities that give a glimpse of the modern future. Then there are mountains and beaches that render tranquillity to your soul. And it is amazing to know that every part of the nation is true to its origin and imparts the soul of India.
With so many options, it becomes a challenging task to pick and choose the places that you would or should visit on your India tours. Here is a list of 5 states that you must visit on your India tour:
1. Kerala
Called as the God's Own Country, Kerala is one of the most beautiful states in India. The tropical ambiance, lush green landscape, and beaches make up the sprawl of this state. Perfect for a getaway, this state boasts of serene backwaters and calming houseboats. Kerala also has hill stations waterfalls, historical sites, and wildlife sanctuaries. It is also famous for Ayurveda tourism with a number of health resorts scattered about the state. The food here is delicious and when here, you must indulge in the seafood preparations, especially the fish curry. You can access this state via flights or railways. Also, there are both budget and luxury hotels and resorts to stay in Kerala. So, just pack your bags and set out for an idyllic adventure.
Must Read: Witness Impeccable Beauty Only at Kerala
2. Rajasthan
Royalty and opulence cast a spell on one's senses the moment the name of Rajasthan pops in imagination. This state has been the seat of princes and kings and the magnificence of the structures imparts the rich heritage. The pink buildings of Jaipur, the palaces of Udaipur, and the forts of Ajmer make for an amazing sightseeing holiday. Rajasthan also has many nature reserves and national parks where you can get close to the wildlife of western India. The cuisine of Rajasthan is another reason to visit this state during an India tour.
3. Himachal Pradesh
The Land of Gods is another name of this state, the landscape of which are punctuated by slow clad mountains and green valleys. The economy of this state thrives on tourism and makes a must-visit state on your India tours. This state is where hill stations such as Dharamsala, Kullu, and Manali are present and wait with their peaks to be explored. The terrain also allows for various adventure activities such as paragliding, trekking, rock climbing, skiing etc. Visit this state during the summers and if you are doing so in winter, then prepare to face cold temperatures.
Must Read: Reasons to Visit the State of Fantastic Mountains, Himachal
4. West Bengal
The state where Bengali Renaissance found its advent during the British Raj, West Bengal has had an elaborate history and is one of the most influential states in terms of intellect, culture, and art. West Bengal's capital Kolkata is called the 'Cultural Capital of India' and 'City of Palaces' owing to the abundance of colonial era structures constructed by the British. The food has its own flavours and the seafood preparations are exceptionally delicious. You must also taste the sweet dish rasgulla, which has acquired a celebratory status in the country. Visit during winters to enjoy the best of West Bengal.
5. Uttar Pradesh
One of the oldest spiritual cities and the beautiful structures ever built reside in Uttar Pradesh. With places such as Agra, Varanasi, and Allahabad, Uttar Pradesh is an excellent place to visit during India tours. There are several historical and religious sites that impart an exemplary architecture and take you back to the past, when India was the seat of power for some of the most prevalent dynasties that have ruled here.
Other states that you should visit during your India tour include Assam, Madhya Pradesh, Goa, and Jammu and Kashmir.