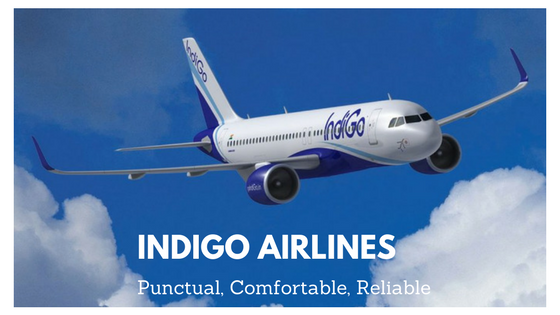 For the past few decades, air travel was a rich man's game. Comfortable air travel at an affordable rate was virtually unheard of. All this changed with the advent of IndiGo. IndiGo primarily operates on the premise of providing comfortable flights at reasonable costs. To ensure the continued provision of this service, IndiGo offers only economy flights carrying 180 passengers with each flight and employs only the Airbus A320 family of aircraft. The flight tickets are cheaper as compared to most other airlines, and these cheap flight tickets are precisely the thing that has led to the rise of IndiGo, as the largest airline in India, based on their market share.
There are two major aspects of flying which IndiGo lives by Punctuality and Comfort.
Punctuality
Barring its cost-effectiveness, the quality that sets IndiGo apart from the other airline carriers is its punctuality. IndiGo flights maintain a tight efficient schedule, with no lags; and hence their flights rarely take off or land behind schedule. Their flights are also quickly re-equipped quickly on landing so as to enable them to take off within a short time. In Aviation jargon, this is referred to as the 'turn-around' time. The little 'turn-around' time allows this airline to have over 12 hours of flight every day.
Organization
IndiGo's airbus of choice is the Airbus A320. IndiGo's entire slew of aircrafts almost exclusively consists of this particular airbus. The flight crew is well trained in the general, as well as safety procedures that are specific to the type of the Airbus. Since all aircrafts of IndiGo are the same, the flight crew can be interchanged between the aircrafts, without any dip in the quality of the service that is provided. The money that is saved by cutting out the additional training, enables IndiGo to maintain the low costs of their air tickets.
Comfort
The Airbus consists of 180 passenger seats, that are well spaced, with decent legroom. Even though all of the seats are those of the economy class, the simple luxury of some extra leg space ends up making a lot of difference, during air travel. Even though there are no in-flight complimentary meals provided, food items can be bought off the cart by passengers; ensuring that passengers do not go hungry during the flight. IndiGo's very own in-flight magazine 'Hello 6E' is also provided to each passenger.
As of 2012, IndiGo Airlines is the largest airline in India, based on the maximum number of passengers carried, as well as the strength of their fleet. Today IndiGo has over 900 odd daily flights, which travel to 48 different destinations, both domestic, as well as international. IndiGo is a solid choice for someone who wishes for hassle-free air travel at reasonable cost.
So, the next time you plan to travel to a particular destination, get your flight tickets booked with IndiGo Airlines. IndiGo Airlines is also known to offer plenty of cheap air tickets, as well as offers and discounts on flights to international and domestic destinations.