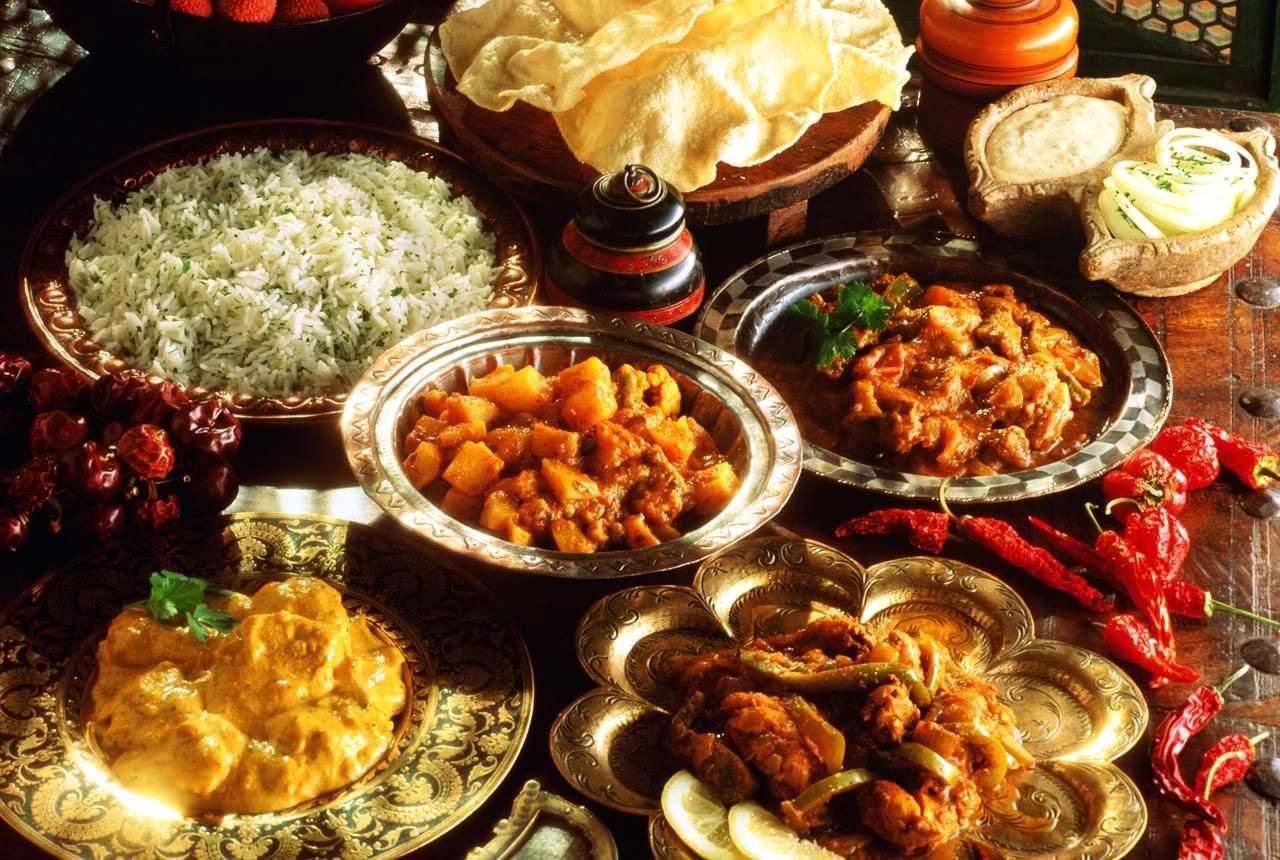 One cannot accomplish the trip to a novel land without tasting its local food. In India, every state holds some special dishes which have long lived history of their own. People are savouring these food items since Royal times.
One can only explore the land of Rajputs to the full extent after tasting its famous Rajasthani cuisine. If you are planning to visit the state, you can book Rajasthan tour packages so that you can try every single dish of the Rajasthani platter to relish a burst of flavours in your mouth. Some of them are spicy, some are sour, and others are sweet. But we are sure about one thing that you will not regret tasting these local delicacies while enjoying your Rajasthan tour package.
The locals of Rajasthan learned to prepare dishes according to their lifestyle. These people prefer to cook their food items with less water due to the scarcity of it in the desert area. But instead of the paucity of recourses, the dishes are scrumptious and royal in their own unique way. Let's know about a few dishes which every person must taste during their stay in Rajasthan:
Dal Baati Churma: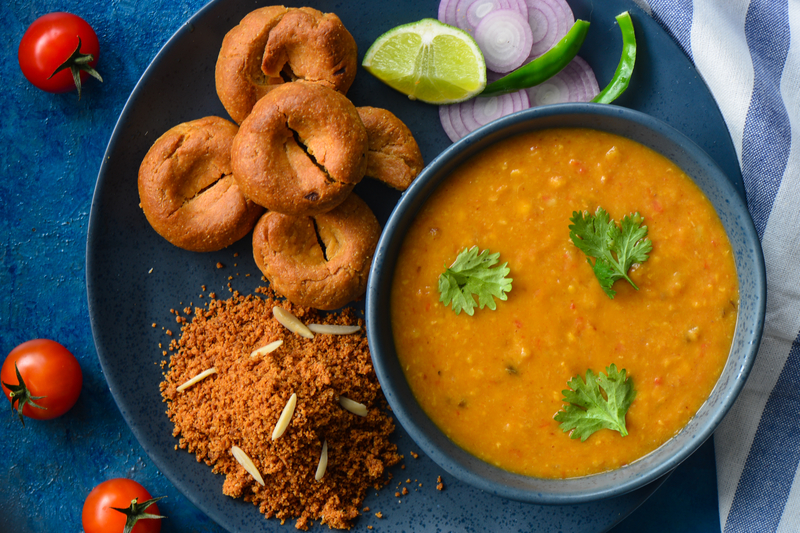 You must have heard the name of Dal Bati Churma earlier as well. Although it is now available in every city due to its popularity and delicious taste, eating Dal Bati Churma in its hometown is an altogether different story. The platter consists of spicy Dal along with crispy ghee dipped Batis and sweet Churma. The combination of three different tastes in a single platter will never let you forget this Rajasthani dish. This Dal is made up of five various pulses, and Churma is made up of jaggery and Ghee which makes this dish super healthy.
Laal Maas:


If you are a die-hard fan of non-vegetarian dishes, then you must not miss Laal Maas of Rajasthan. The gravy of Lal Maas is prepared with red chillies and tomatoes thus giving it a pure red hue. The tender meat pieces covered in spicy gravy served with Bajre ki Roti will give a tangy treat to your taste buds. People who love plain rice can eat the dish with it as well.
Mohan Maas: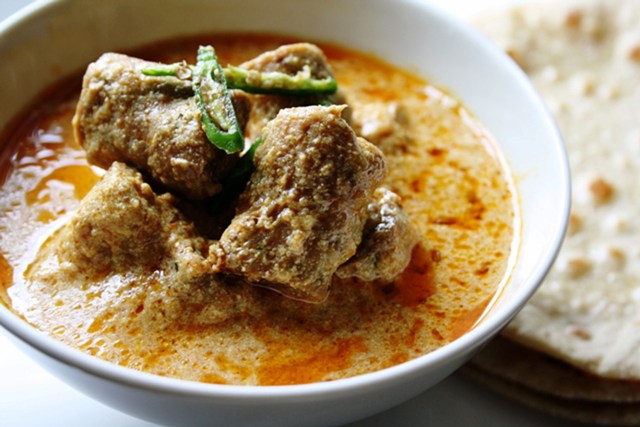 One yummiest non-veg dish is waiting for you in Rajasthan! If you don't love spicy foods, then you must order this dish during your Rajasthan tour. Soft meat, light spices, dry fruits and milk make this purely royal dish tasty. Its flavouring is done with Khus-Khus, cardamom and lemon. You will crave this mouth-watering dish more after eating it once.
Pyaaz kachori:


Your hunt for some light yet scrumptious snack will be complete after eating Pyaaz Kachori. It is one of the popular breakfast items of Rajasthan. Stuffed with onion and many other spices, these deep-fried crunchy Kachoris are worth spending your money. It is best served with Imly ki Chutney and Dahi in Jodhpur and other regions.
Ker Sangri: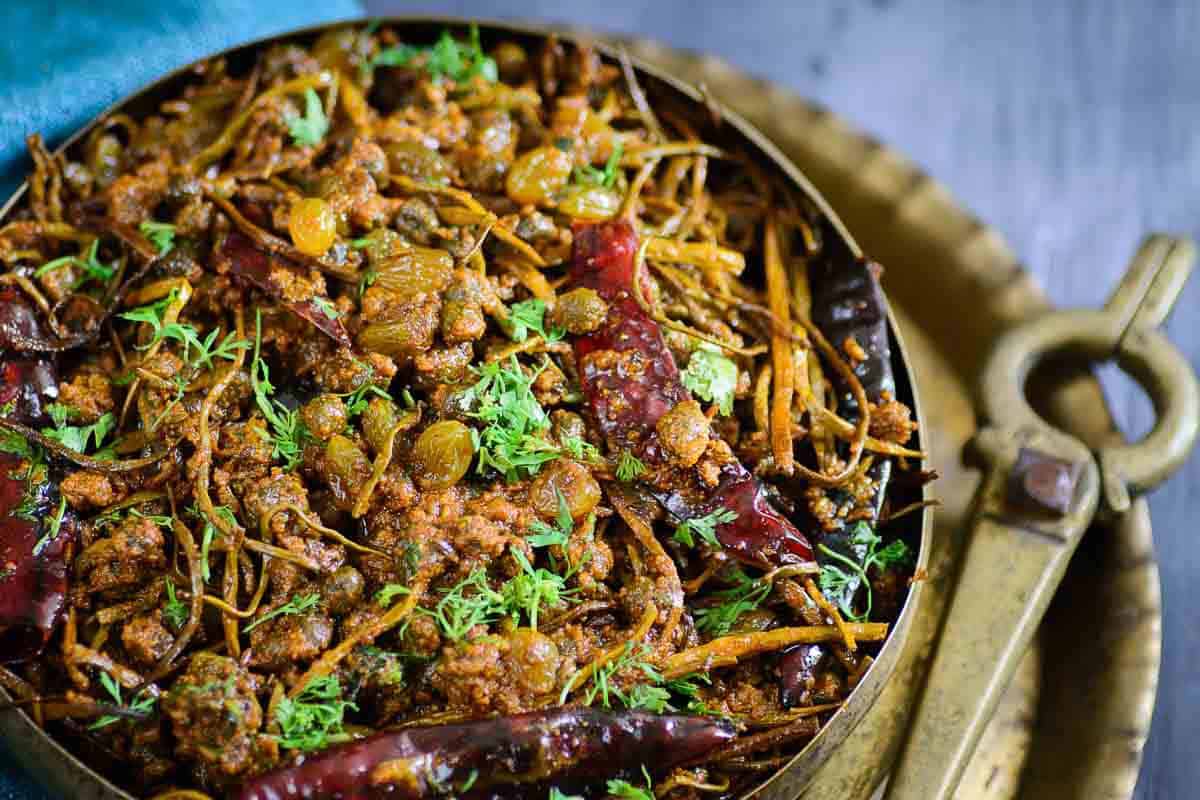 Ker Sangri became famous in the region due to regular droughts. Locals use wild Ker berries and Sangri beans in the preparation of this dish. These were the only options in vegetables at the time of famine and drought. Since then it became a favourite dish of Rajasthan. One can savour this pickle sort dish (tangy and sour) with Bajre ki Roti. You can't resist licking your fingers after finishing this flavorous food item.
Gatte ki Sabzi:


One can cook this unique food item without the use of any fresh vegetable. Gatte is made up of soft Besan. Tomato, other spices and milk provide its gravy with a perfect texture. Locals have also evolved a similar recipe called Gatte ki Khichdi. These Rajasthani dishes are also born out of scarcity of vegetables in the area. Gatte ki Sabzi or Khichdi is worth tasting in Rajasthan.
Mirchi Vada: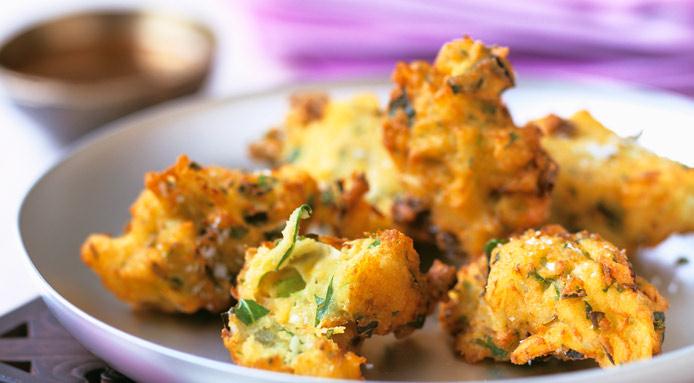 Mirchi Vada will help in complementing your evening gossips and conversations. The list of famous Rajasthani snacks cannot be perfect without it. The stuffed Mirchis are covered with Besan and fried until they turn golden to prepare this item. People love to eat it with chutney.
Sweets: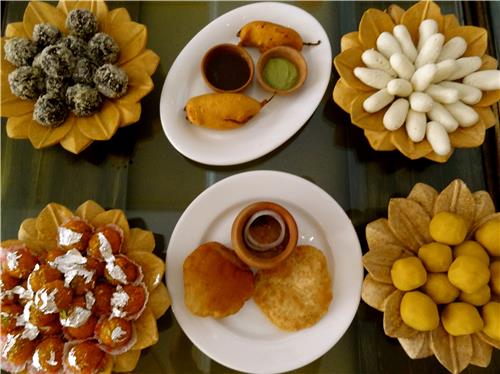 Lunch or dinner is incomplete without having some sweet dish. Yes, Rajasthani desserts are as famous as its main course. Don't forget to enjoy some toothsome sweets after eating all of these yummilicious dishes in Rajasthan!
Ghevar: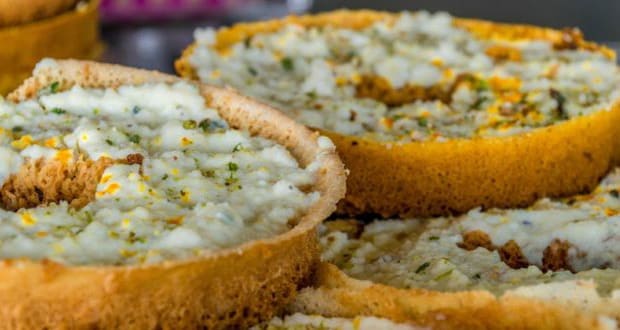 The mentioning of Ghevar alone can enhance the excitement of sweet lovers across the globe. Ghevar came basically from Jodhpur but, now it is famous in entire India. It is a disc-shaped sweet soaked in ghee and topped with cream and dry fruits.
Mohanthal: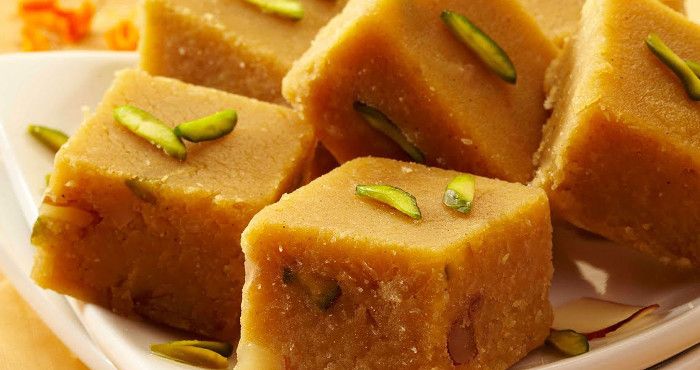 It is also known as Dil Kushal or Besan ki Barfi in some areas. This square cake shaped sweet melts instantly in the mouth leaving its heavenly sweet taste behind.
Mawa/Kalakand: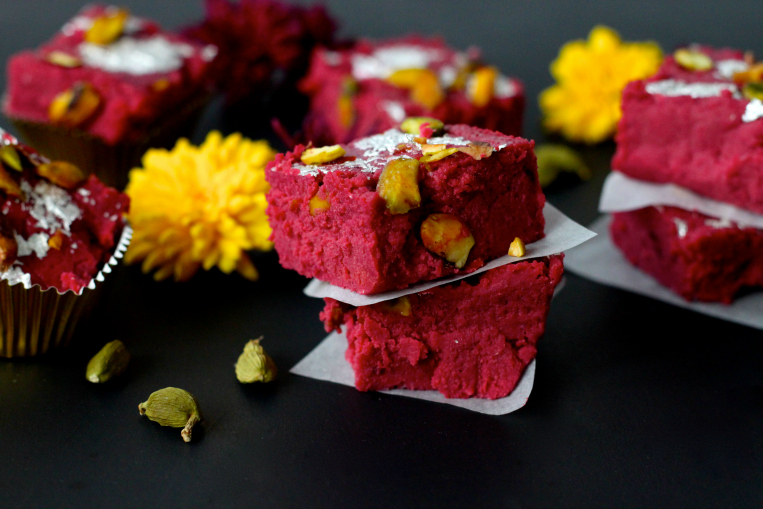 Alwar district of Rajasthan is the originator of this sweet dish. It is a white coloured sweet milk cake prepared with thick milk, cream and dry fruits. You must have eaten it somewhere during the festive season.
Gujia: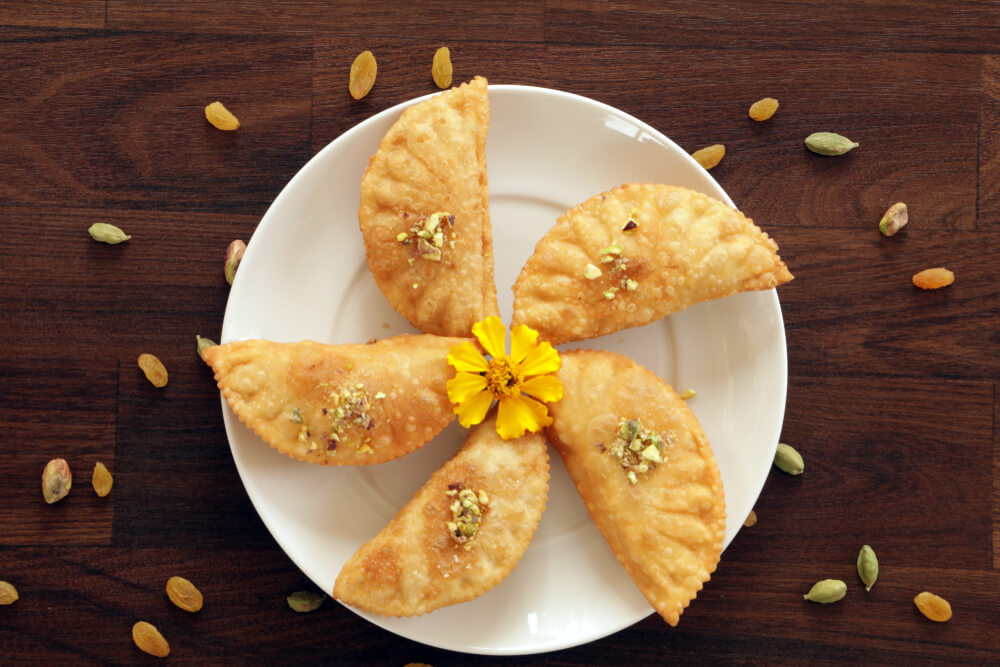 You must be thinking about festival of Holi after reading the name of Gujia. Most of the Indians are familiar with this stuffed sweet dish. It is made up of sweetened Maida stuffed with Khoya and various dry fruits. It is a must try sweet dish if you are going to Rajasthan.
Balushahi: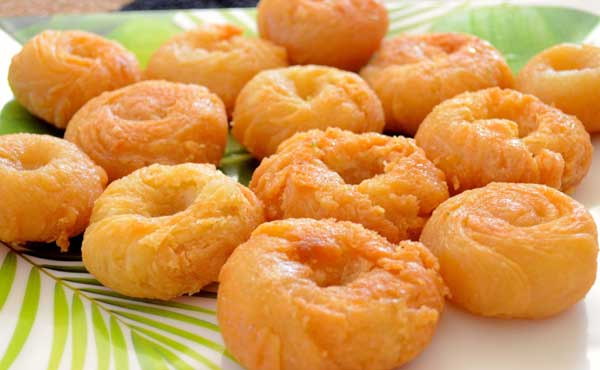 One can easily find this sweet in the list of favourite sweet dishes of India. It is made up of rounded dough which are fried and filled with abundant sugary syrup so that you can have a splash of syrup in your mouth while chewing it.
Now it's time to make a checklist of all these dishes before planning and opting for any Rajasthani tour package. Some of them contain exciting food offers along with travelling expenses. So, research wisely before choosing any package. After all, food is life!