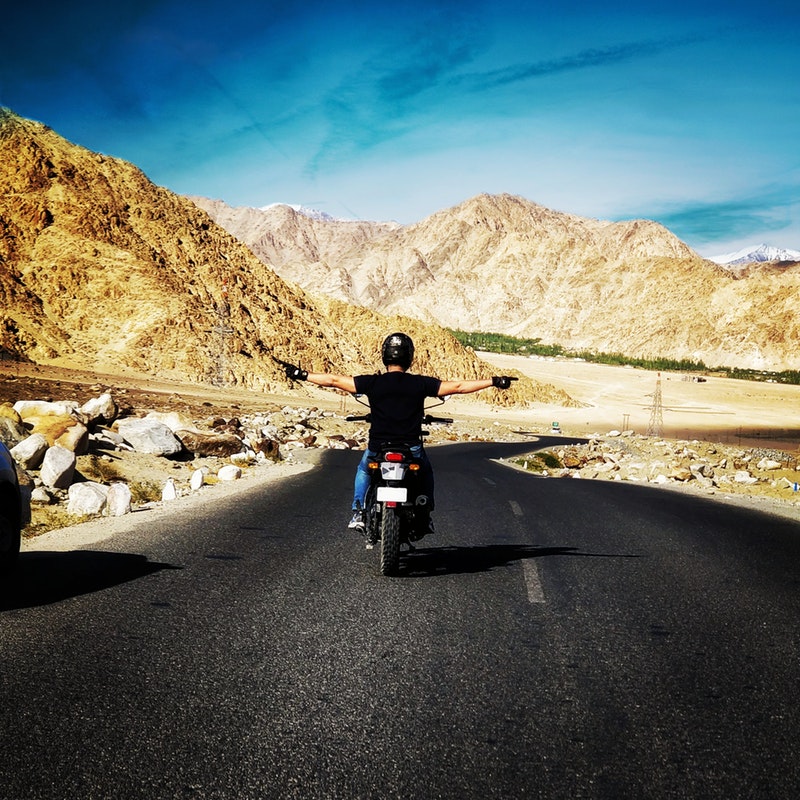 How many times have you felt envious after looking at the gorgeous pictures that your social media friends have uploaded after their trip to Ladakh? Well, envy couldn't get you there, but booking cheap flight tickets with Jetstay.com could. Air tickets at lowest fares along with some discounts from Jetstay and an itinerary is all you need to have the best vacation of your life at Leh-Ladakh. Here's how you can plan a week of fun, adventure and absolute bliss at Leh-Ladakh:
Related article: Five Things to Keep in Mind Before You Head to Ladakh 
Day 1: Arrival at Leh/ Ladakh
On the very first day, there shouldn't be much that you should be doing in Ladakh. You'll take quite some time to adapt to the weather that's going to be chilly, frosty and snowy, pretty much unlike wherever it is that you're hailing from. Make sure you don't catch a cold or cough there or else all the fun will go down the drain. Take good amount of rest in the hotel and take a few strolls in the vicinity of your hotel to get used to the chilly weather there. You may also like to visit the local market and try some local cuisine there. Have a good night's sleep that keeps you energized for the day to come.

Day 2: Ladakh Local Sight Seeing, Hall of Fame, Spituk Gompa, Magnetic Hill
After having spent a lazy and relaxed day, you should be energized enough to tour around the city. A warm and satiating breakfast will help you keep going throughout the day. Hall of Fame is where you can begin your sightseeing with by riding/driving via the Kargil Road. The hall of Fame is a museum located near Leh Airfield and was constructed by Indian Army as a tribute and mark of respect to the martyrs in the war. Then you can visit the Kaali-Mata temple that shares the space with a Buddha Monastery, known as Spituk Gompa. Post that you may want to visit the "Gurudwara Patthar Sahib" that lies deep down the Himalayan Valleys, constructed to honour the visit of Guru Nanak Dev. After a drive/ride of about 5 minutes, you'll come across a hill that may have disappointed Newton, for it goes against the Law of Gravitation. The Magnetic Hill will leave you awed as you park your vehicle at the base, and with the brakes unlocked, find yourself moving uphill without any manual force. You will be amazed to see how some phenomena can destroy your belief systems; nature is mysterious after all! A little ahead of that, the landscapes will leave you marveling at the beauty that nature can depict while you head towards the confluence of Indus and Zanskar river. After a long, tiring, yet worthwhile day, you can take a halt, somewhere in the Nimmu village and be geared up for the adventures ahead.
Day 3: Khardung-la Pass, Nubra Valley and Hundur Monastery
Take a drive to Nubra Valley, formerly known as Ldorma, which has been popularised as the "Valley of Flowers", given the myriad flowers that blossom throughout the year in the valley. You will have to reach out to the valley by going through the Khardung-La pass from Leh town. The Khardung-La pass is at a distance of about 39 km from Leh by road and lies part way up the Siachen Glacier. The Nubra Valley gives a beautiful view of Karakoram and Ladakh mountain ranges. After looking at the flowers and admiring them to your heart's content, you can visit the Hundur Gompa in Hundur village. The village is strategically and nationally important owing to its proximity to the India-Pakistan border. You can enjoy a camel ride in the dunes while you're in the village. Find yourself an accommodation in Nubra Valley and prepare yourself for the adventure the next day.
Day 4: Return to Leh via Diskit Monastery, Leh Local Market
This is the day to take a detour to Leh, but there's pretty much you can do enroute. Diskit Gompa is the largest and the oldest Buddhist monastery in Nubra Valley and is a must-watch. It is a dwelling place for several Tibetan monks who meditate here. There are a number of shrines in the premise and an umpteen Tibetan and Mongolian scriptures in the monastery. After having experienced calm and solace inside the monastery, you could spend a relaxed evening by visiting the local market around and having a sumptuous dinner.
Day 5: Pangong Lake, Shey Palace, Changla Pass
You can start early this day and head to Pangong Lake, which is one of the most popular tourist attractions here. Pangong Lake is the highest salt-water lake in the world and is situated at a height of 14,000 ft above ground level. It's said to belong to both India and China. Thanks to the location, the water in the lake is crystal clear and you may see your own reflection when the water is still. The water of the lake keeps changing colors and leaves you fascinated to an extent that you can't take your gaze away for the longest possible time. While heading towards Pangong Lake, you may visit Shey Palace, once a residence of the royal family and Thiksey Gompa, another beautiful monastery. You can be around the Pangong Lake for as long as you wish to and then have an evening to yourself for leisure and relaxation.
Day 6: Return to Leh / Hemis Monastery
If you haven't gotten enough of the Pangong Lake, you can make a quick visit to the lake and enjoy the scenic beauty around before returning to Leh. While returning to Leh, you may want to pay a visit to Hemis Gompa, the last Buddhist monastery you might get a chance to visit while in Leh.
Day 7: Rest / Leisure Day
The trip could've been overwhelming in terms of the long drives/rides you would've taken to visit the aforementioned destinations. Save a day for you to do nothing, except enjoying the comfort of the hotel room and sipping coffee while enjoying the beautiful sceneries outside of the window. If you haven't bought souvenirs for your loved ones yet, now is the time to do so.
Day 8: Departure – Ladakh Airport
With a heavy, yet a happy heart, bid adieu to the city that let you have the time of your life while you were there. With gazillions of memories, you might want to recollect every moment spent in the White City while you look at it from the window seat of your airplane.
If you're feeling the Goosebumps already, wait no more before you book yourself and your friends, cheap domestic flight tickets to Ladakh with Jetstay.com. Jetstay will amaze you with the surprise deals, offers and discounts along with the lowest air fares that you will come across while booking your tickets online. Everything can wait, but not a trip to Ladakh!
Must Read: Leh Ladakh Road Trip – The Ultimate Road Adventure